Greater Hartford Bando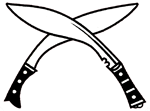 Bando is a Martial Art originating in Burma (currently Myanmar) 
Bando traces it's history back to about 2000 years. There are many influences on the art now called Bando. As Burma was a crossroad between India, China, and the rest of South East Asia, you can find many similarities with the arts of the other countries in the region.
Greater Hartford Bando offers instruction in the traditional Burmese martial arts, as well as a separate program of instruction for Gracie Jiu Jitsu. Check out our site for some history on these arts, scheduling, location, and contact information.
Stop in to watch a class, or set up a free trial class.
We are located at:
180 Oakwood Drive
Glastonbury CT
Bando contact 860 280 5021
Jiu Jitsu contact 860 810 3117